Caidyn, CH Glacier's Miracle of Life
Caidyn is my Miracle baby. When her litter was born I let someone come see my babies and they brought in a virus my beautiful litter of puppies started passing away. I lost 9 of the 13 puppies. I was heart broken Caidyn is one of my survivors she holds a very large part of my heart as she is a strong beautiful girl my miracle!!
I love Caidyn's conformation she has a beautiful head with wrinkle, huge bone and a very large rear end. Her movement in my opinion is perfect she uses that powerful rear for drive I LOVE this girl!!
Caidyn received her AKC championship in very few shows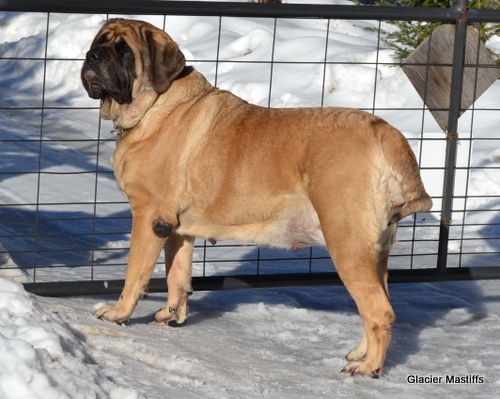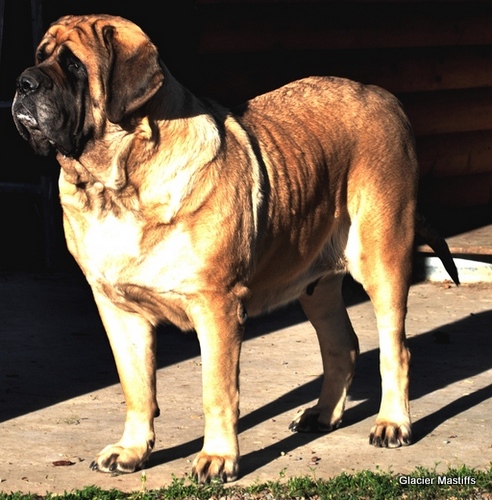 Pedigree for CH Glacier's Miracle of Life
Caidyn Mastiff Fawn female
Sire
Skamania Walk of Life
Sire
Grizzlys Sultan of Swing
Sire
Greiner Hall Egan
Sire
Greiner Hall Nicholas
Dam
Greiner Hall Tuppence
Dam
Knights Grizzlys Caliente
Sire
swd/fin/nor/dan CH Alvedor's Aragorn
Dam
CH Greiner Hall Knights Isa-Tai
Dam
Storm's Sweet Dreams Skamania
Sire
Storm Cannon of Royal Oak
Sire
Storm Gruffudd of Royal Oak
Dam
Storm Philly of Swede Rd
Dam
Greiner Hall Madam Mim
Sire
Greiner Hall Falcon
Dam
Greiner Hall Isabella
Dam
CH Marcy MTN Glacier's Golden Legend
Sire
CH Wynwood's Legend of Marcy MTN
Sire
CH Serendipity Greiner Axel
Sire
CH Greiner Hall Jedadiah
Dam
CH Caledonia Sicily Tyson
Dam
CH Windy MT Wings of an Angel
Sire
CH Barnes Sinderfella
Dam
CH Moonstones Amazing Grace
Dam
CH Grizzley's Sierra of Marcy MTN
Sire
Lionhearted Medival Man
Sire
CH Double D CAmeo's Mario
Dam
Lionhearted Double D Mariah
Dam
Grizzley's Total Eclipse
Sire
CH Avalons Tucson Warrior
Dam
Lionhearted Blackberry's Gypsy
GLACIERS MIRACLE OF LIFE
Registration:
WS27540708 (AKC)
Sire:
WS13694301

No photo on file
Breed:
MASTIFF
Dam:
WS16291503
Sex:
F
*Titles:
CH
Color:
FAWN
CHIC #:


Birthdate:
Sep 17 2008
Addtl. Reg. #


DNA Profile:


OFA Number
Registry
Test/Film
Date
Report Date
Age
Final Conclusion
MF-3692
CERF
Jan 30 2010
Jan 30 2010
16
TESTED: 09,10
MF-CA2173/24F/P-VPI
CARDIAC
Sep 21 2010
Sep 27 2010
24
NORMAL - PRACTITIONER
MF-TH1190/24F-VPI
THYROID
Sep 21 2010
Oct 5 2010
24
NORMAL
MF-EL4576F24-VPI
ELBOW
Sep 21 2010
Oct 11 2010
24
NORMAL
MF-PA2101/24F/P-VPI
PATELLA
Sep 21 2010
Oct 11 2010
24
NORMAL - PRACTITIONER
MF-SH53F24-VPI
SHOULDER
Sep 21 2010
Oct 11 2010
24
NORMAL